Carried In His Arms – An Unexpected Journey through Cancer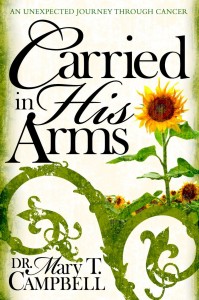 I believe the Christian walk is a journey. It is a journey that began before the foundation of the world, in the heart of God. When we accept Jesus as Lord and Savior, our earthly journeys take us down new paths. Each of these paths is a distinct trip and complete journey, in and of itself. I do not believe the journey ends when we pass into Heaven. Rather, I see our passing into Heaven as a continuation of the journey. Why? Because I believe it will take all of eternity to learn about the heart and nature of God, and for Him to unfold His greatness to those who love Him.
As Christians, it is important that we realize walking with God is a journey. Until we discover this pearl, we struggle; and it is difficult to find treasures in the tests and trials, or embrace the discipline and chastening He reserves for His children. We view the trials as mistakes or figure we must have done something wrong. We think, "Isn't life supposed to be easy now that I am a Christian?" Rather, we are being purified by fire into precious gold. He burns off the impurities and presents us as trophies to the Father. As we walk this life, the Lord is there with us each step of the way. Whether we are mindful of Him or not, He is there.
Philippians sums up my journey through cancer as the Lord held me close:
For I know that this shall turn to my salvation through your prayer, and the supply of the Spirit of Jesus Christ, According to my earnest expectation and hope, that in nothing I shall be ashamed, but with all boldness, as always, now also Christ shall be magnified in my body, whether by life, or by death. For to me to live is Christ, and to die is gain.
Philippians 1:19-21